&nbsp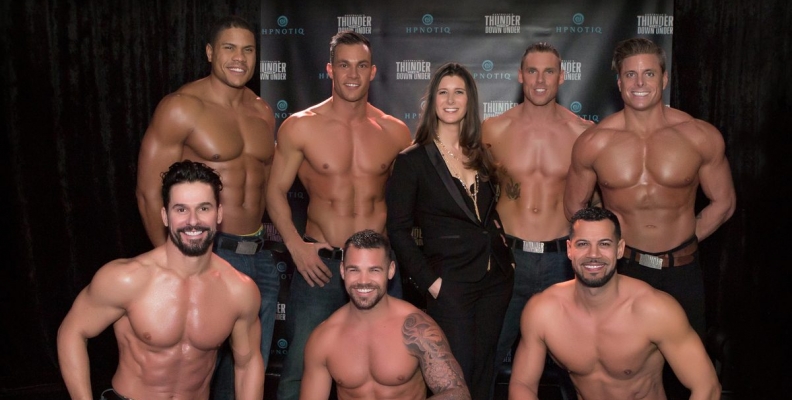 EXCLUSIVE Interview with Andrea Szew
Andrea had the pleasure of sitting down with the Examiner to discuss immigration, the entertainment industry and the inside scoop on her amazing clients Thunder From Down Under!  
Amber Claire: Hello Andrea, its great catching up with you and also to get a little more insight into your background and your line of work. Firstly, when did you first realize you wanted to become an Immigration Attorney? What was it about this area of the law that sparked your interest?
Andrea Szew:  Prior to opening my own practice, when I worked at PricewaterhouseCoopers, I had the pleasure of working with many international clients.  I fell in love with foreigners!  I always had an interest in people from different countries and cultures, so it was a perfect area of law to go into that allowed me to surround myself with people from all over the world every day!    The world fascinates me, and I get the pleasure and honor of spending my days with people from everywhere in the world.  How can I ask for more than that!
AC: You also specialize in helping artists from all over the world obtain their entertainment visas. Was the entertainment side of the business something you always wanted to specialize in separately to immigration? Or did you always see yourself combining the two?
AS:  Working in Los Angeles made it very easy to slip into the entertainment industry. A lot of the talent that we all enjoy on and off screen is by people that were not born here in the US. Therefore someone has to help those amazing people get into the United States.  I became that someone within the industry, and love being a small part of the magic of Hollywood and showbiz.  Also, after years of working within the industry, I understand the demands and the needs of productions, including the short time frames, the unpredictable schedules, and the strict budgets.  I get it, so that is why myself and my firm are sought after by studios, entertainers and production houses because we make visas one less thing they have to worry about.  We always have their backs!
AC: You represent some pretty high profile clients including the very handsome Aussie sex symbols of 'Thunder from Down Under'. How did this come about for you and what can you tell us about them away from all the glitz and glamour of being Las Vegas headliners? Are they great guys to work with?
AS:  The guys of Thunder From Down Under are not only undeniably gorgeous men, but are true Aussies and gentlemen with a tremendous work ethic. The guys always give their all in every performance, and if you go to a show you are absolutely guaranteed an amazing unforgettable time.  Trust me and go! I started working with the group after Adam Steck, their Producer and CEO of SPI Entertainment Inc. hired me.  We were first introduced almost 4 years ago by a mutual friend, Keith Olsen (the incredibly famous Producer of Fleetwood Mac, Grateful Dead, Rick Springfield, and countless others) and the rest is history.  I feel very lucky to have the opportunity to handle all of SPI's immigration work, including the incredibly talented men of The Australian Bee Gees Show.       
AC: Your firm also represents talent and crew from productions like Fifty Shades of Grey, X-Men, The Twilight Saga, and Underworld Next Generation in addition to talent from worldwide TV series' like Fremantle Media's America's Got Talent. It must feel really rewarding to see your clients reach this level of success. What do you look for when taking on a new client?
AS:  The rewarding part is working with individuals who are at the top of their fields and having the honor of being a piece in the puzzle of getting them to the United States to entertain us.  My clients are truly extraordinary people!  I don't make them that way; they already are.  I always joke with potential clients that call our office and demand that they are extraordinary.  I tell them "If you have to convince me that you are extraordinary and that you deserve a visa, then more than likely you are not".  During the last more than 15 years of doing this work, I have learned that most of the people that are truly extraordinary at their craft don't believe they are; I usually have to convince them that they are.  Funny how it works that way, but very often it does.
AC: You are very much involved in the Australian community and helping Australian businesses and companies expand and develop in America. How did this come about with your Australian connection?
AS:  Over the years, I have been very lucky to work a lot within the Australian community.  It was not intentional; it just happened. Once you work with one business, company, individual or new entrepreneur from a particular country, and they are happy with your work, they refer you to others and then it snowballs.  I was just lucky that it happened with the Aussies. 
AC: You have a background in tax.  How does this play into your immigration practice?
AS:This is a very important topic for me and I could talk hours about this, but in a nutshell, I personally think that an immigration attorney that does not have a strong grasp on tax law is walking a very scary line when handling international clients.  Foreign individuals and businesses coming to the United States need to understand clearly what the tax consequences are of each of their options before they decide.  The US has a very intrusive and far-reaching tax system that can be devastating to both individuals and businesses that are unaware and uneducated of it.  For example answers to questions like, "Should I become a permanent resident or not?" or "Should I incorporate in the US versus opening a Limited Liability company?" depend heavily on tax law and its implications for each individual client.  My staff and I always look at the client as a whole, and we plan for their long-term future and not just the immediate visa requested.  We make sure our clients fully understand the tax consequences of what they are pursuing so there are no surprises. 
AC: You are a regular speaker at a lot of conferences and engagements educating others on their business ventures in America. Do you find this to be a really rewarding experience? I can imagine even some of the biggest companies still need the best legal advice when it comes to moving their whole business and ideas to the US:
AS:  I believe there is a lot of misinformation out there surrounding US immigration law.  Unfortunately, I hear all too often that people have been taken advantage of or told that they qualify for a visa that they do not.  I battle this terrible injustice by trying to educate the community as much as I can to empower them with the proper information, so they can ask the right questions when the time comes.  It is imperative that people know what they are getting into when they select and apply for a visa.  It is an important step for not only individuals, but businesses, which if taken blindly can have irreversible consequences and a loss of a tremendous amount of money.  
AC: What do you want your clients to walk away with after they have your firm represent them? What do you think stands out the most about your Law firm?
AS:  Trust, peace of mind, and success is what I want all our clients to feel when they are dealing with my firm.  I take pride in and demand of my staff to provide personal professional service at every stage of the process for every client.  I make sure to stay involved in every case and that my clients can reach me, sometimes 24/7, so that they know we are partners in their success and that my firm and I have a vested interest in the outcome as much as they do.  I do not take every client who calls or inquires with my firm.  I only take cases that I believe in and that I am willing to fight for, no matter what.  I am not shy about telling potential clients that they are not qualified or ready for a particular visa before they retain my firm.  I do not just get visas; I partner with my clients to build a long-term relationship and make sure that they succeed in the US. 
AC: Are there any other goals you would like to achieve with your work that you have not yet done?
AS:  I would like to expand and reach individuals and companies abroad, educate them about their options before they arrive in the US.   I want to take the education to them. I was lucky enough to travel abroad with the Governor of Nevada and his office of Economic Development to help companies get educated on the benefits of investing in the United States.  It was very rewarding and allowed me the opportunity to meet with people in their home countries before they took the initial steps to come to the United States.  I want to do more of that.
AC: Lastly, what would be your best piece of advice to aspiring artists and entertainers wanting to come to the US and have a career like some of your other clients the 'Thunder from Down Under'? Do you think they too, can reach this level of success if they stay focused?
AS:  My best piece of advice for them is to stay focused on their goals and educate themselves as much as possible, so they can make sure the choices they make and the paths they take will ultimately lead to a successful career, experience, and future in the United States.  Stay positive and never take yourself or life too seriously.   
AC: Thanks so much for your time Andrea!
AS: My pleasure!