My clients are not just a file or case number, but are actual people who have a unique and important story of their own. Each of them has thoughtfully allowed me the privilege to travel by their side through their immigration process. I don't take that choice lightly and I am thankful every day for the opportunity my clients allow me.
I have been practicing law since 1997, and since the first day I stepped into a law school classroom, I knew that my goal was to help individuals and companies navigate the complicated and somewhat unfair process of advocating for what they need, want, and deserve. After working at Coopers & Lybrand (which merged to become PricewaterhouseCoopers), practicing income tax law and estate tax planning for high-net-worth individuals and companies, I decided to open a business immigration law firm to focus more on the international community and their needs. Since the day I opened Szew Law Group in 2002, I have never wavered from the core ideals of respect, honesty, integrity, and responsiveness. I never wanted to establish a firm that didn't get back to their clients or made their clients feel they were just one of many. I pride myself on creating a firm that builds relationships, and I am proud to say that I still am friends with many clients that I had over 20 years ago (some of them even naming me the godmother to their children!). Myself, and everyone at my firm, loves what we do and listens to what our clients need and want so we can help them get to their goal the fastest and most efficient way possible. I did not want to create the biggest law firm with the most clients, I wanted to, and have, established the best law firm with incredible, happy, and satisfied clients!
Whenever I have a second of time you will always catch me on a plane to somewhere. My love and passion for travel, culture and languages has been fueled by our amazing clients that span the globe.
I will never pass up the opportunity to learn a few new words in a language I don't know, eat drink and mingle with people from a different culture, or walk the streets of a place I have never been! The world is getting smaller every day, and the more we learn about each other the better the world will be.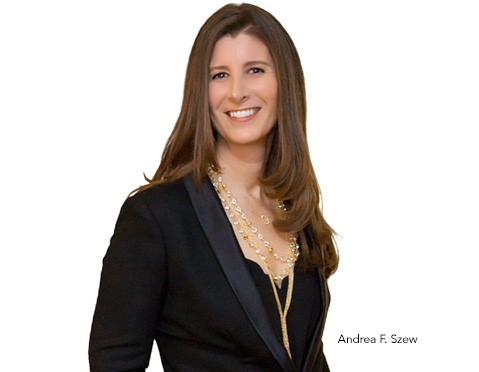 Testimonials
Andrea has assisted our company over the past 5 years and she has consistently been outstanding in her service. She is straight forward and has her client's interests as her number one focus. She is and has always been very reachable and honest about the options and outcomes for our employees.

Canada

I can't believe a lawyer of her caliber would know my case 24/7 365 days of the year! She is very extensive in her work acumen. She is passionate in what she does as this is clearly reflected in the excellent outcome of her work. You will feel you are not just one of the clients in her law firm, I never lost sleep because of the personal attention she gives you.

Co-Owner of SUR Restaurant & Lounge

Thank you so much for all of your help. From talking to others, there seems to be no end of confusion and expense which can be incurred by choosing the wrong immigration lawyer – but you were always easy to contact and very straightforward. We will definitely be referring others to you in future.

Iceland

US Immigration policy is one of the toughest in the world. I was glad to find Andrea to help me navigate through it with my difficult case. Andrea was quick to respond to my first call and whenever I needed to talk to her during the process, she responded within few hours – the most. She has friendly, but professional approach, which makes the painful process bearable. From my previous experience with other attorneys I learned to be careful. There is a lot of immigration legal help out there, that does not have the necessary knowledge to help. Andrea is the opposite. Thanks to her I saved a lot of money and time. My case was particularly difficult as I come from the Czech Republic and applied for VISA that is not easy to obtain. I rarely take time to give a positive feedback, but this attorney certainly deserves it!

Czech Republic

Andrea Szew is just wonderful and the best, she was our guardian angel, in one of our helpless times, she was the light in our darkest days and we still amazed from her work! Best service, best advise, best information, best personality, best, best, best .. just an angel….very simple we love her! If somebody/anybody asks us for immigration or immigration lawyer, without any doubt there is only one name and firm: Law Offices of Andrea F. Szew.

Germany-Los Angeles, CA

I approached Andrea for an immigration application that was not going to be one of the "business as usual" cases, but she handled it in a very professional and efficient manner, giving me all the time I needed to ask questions and understand my options. I would have no hesitation recommending Andrea for immigration and other cases needing first-class legal work.

Australia – Alaska

Andrea Szew was instrumental in helping me obtain my investor visa. The entire process went through with no hitches. She was very patient, explaining in clear layman's terms all the nuances and legalities of my case. In addition, her detail-orientedness and organizational skills were critical in making sure that no stone was left unturned. What I liked best about working with Andrea was her personal touch. With Andrea as my lawyer, obtaining the visa didn't seem like it was just MY endeavor, it became OURS.

Philippines

As soon as I had my first consultation with Andrea, I knew she was the right Attorney for me. She is enthusiastic and extremely friendly and explained everything I needed to know. I had to put together over 20 years of my work, plus influential letters from people who recognized me in my trade. Andrea helped and guided me enormously through all this. The result, I finally got through my 'O' visa and it's all thanks to Andrea!

England

From our first conversation I knew Andrea and her team were on the ball. The best news is they were totally engaged and there for every question or concern right up to and after the final stamp. Thanks Andrea for your personal care and support.

CEO, House of O

I was extremely impressed with the Law Offices of Andrea Szew, more importantly Andrea Szew. Andrea prepared our successful E visa application. She was easy to work with and always available to answer all our questions. She worked seamlessly and patiently with our human resources department and our CFO to gather and prepare all documentation necessary to get our approval. Andrea and her staff are very experienced in dealing with companies big and small and bringing them to the US. Her background in tax and business helped make the process that much easier considering the complexities with our structure. I will definitely recommend Andrea and her office to others in the business world and look forward to working with her again.

CEO at Hootsuite

Andrea is an absolute pleasure to work with! She successfully and painlessly helped me file for my US work visa and subsequent renewal. Couldn't recommend her more. Thanks Andrea 🙂

Director & Skipper

Andrea is one in a million! I could not have been more impressed with her professionalism and knowledge. She is also possibly the most organized and thorough person my team have had the pleasure to deal with, and we're so grateful to her for being a huge part of our global expansion plan. Thanks Andrea!

Founder/Global C.E.O. at Business Chicks USA

Andrea is an amazing attorney who made the overwhelming process of getting our Company US Visa simple and surprisingly fun. She was always available to Skype with us with any question we had and we felt like her only clients. Our application was extremely detailed and we received our Visa without any problems. I can't recommend Andrea highly enough.

Creator / Writer / Producer / Director - Get Ace Season 2 at Galaxy Pop

As the Founder, Manager and Producer of The Australian Bee Gees Show in Las Vegas I could not recommend the Law Offices of Andrea Szew more (more directly Andrea Szew). Andrea has been able to not only get all of us our visas, but assist us in obtaining a visa that was more in line with our long term goals. She doesn't just look for the fast fix, but looks at the whole picture to make sure that her clients are getting the proper visa to fit who they are as business owners and performers. Andrea is terrific with the entertainment world of Las Vegas and consistently has helped numerous performers with getting their visas painlessly and successfully. Also, because Andrea is versed in not only immigration, but business and taxation, she is able to help businesses applying for E visas with not only immigration guidance but with all facets of their business. Andrea gets it!

Manager, Producer, Performer at The Australian Bee Gees Show

There are not enough words to describe the exceptional level of service that Andrea provides. She managed to push for deadlines and results which felt almost impossible to achieve at the time, and it's all thanks to Andrea and her team who kept at me to ensure we got there.

General Manager

Andrea is awesome! She was the architect of an E visa that I needed for a business partner from Mongolia. She was extremely patient and giving of her time, walking us through every step of the process. In the end, we had complete documentation that allowed the E visa to be quickly granted. Very happy with her service.

CEO & Creative Director, Executionists

I hereby would like to recommand Andrea Szew , she has worked for me as an Immigration lawyer in The USA, and handled my immigration process in an amazingly efficient and fast way.  I strongly recommand her service to anyone trying to obtain a work or business Visa or opening a company in the USA.

Producer/Composer

It is my privilege to recommend the services of Andrea Szew. She did an amazing job with our investor visa and with other business matters. Her understanding of our situation has consistently demonstrated a keen intellect, sound reasoning, and objectivity along with an acute sense of organization. Both Mrs Szew and her office always respond in a timely fashion and exhibit the highest level of professionalism. More importantly she is a person of integrity. Unlike many lawyers, Andrea Szew has a passion to see people resolve their differences in peace with personal reconciliation rather than through costly law suits – and she is good at doing it! While she may not be working for her own financial advantage as a lawyer, she puts the wellbeing of the parties before herself in order to accomplish what is right and true.

Co owner at Bo Nuage

It was a real pleasure working with Andrea on my O-1 visa. From our first phone call I knew she was very knowledgeable. She was able to suggest which visa would work best for me and was very helpful with any questions that I had. She was always very prompt through email and always available by phone. I would definitely recommend Andrea to anyone in the future.

Designer Specializing in Menswear

Andrea is a highly detail orientated lawyer who we used for our immigration needs for a Canada to US visa. She went above and beyond to ensure that all my questions were answered and that every deliverable to the consulate was best of class. We will be using Andrea for all of our legal immigration needs.

Partner at Honeycomb Portfolio

Andrea has the talent to make things clear and simple and very Human , nothing is dramatic, any question you have she is always reachable which was the opposite of the other attorneys who i dealt with in the past. With her there is only solutions. On top of all of this she is so efficient and so fast, she put together my files in 10 days and I obtained my visa fifteen days later. It seems that my experience with her is not isolated, 100 % of the people that I know who has dealt with her , had the same words.

Flagship Assistant Store Director

Andrea was incredibly helpful and thorough with my O1 Visa application and subsequent approval. She is excellent at what she does

Film Industry Asst. Director

We're working with Andrea on an ongoing basis for all of our immigration needs. She's been professional, personable and incredibly helpful navigating the complex and ever-changing nature of immigration law. I wouldn't hesitate to recommend Andrea to any individual or company looking for legal guidance.

CEO at Invoke Labs

Andrea F. Szew successfully helped me to get my O-1 Visa. I was very happy with her quick and efficient way of working and can only recommend her.

Music Producer, Composer

Andrea was extremely helpful and informative when it came to getting my E-2. She was quick to respond to any questions or concerns as well providing valuable advice. She worked with me as if I was her only client and made me feel confident throughout the whole process. Highly recommended!

Art Director at Splash

We can't praise Andrea highly enough. Our first experience of filing for residency was with an incompetent (and expensive)Attorney, who handled things so badly he almost permanently ruined our chances of getting our 'green card', never mind citizenship! Fortunately in the nick of time we discovered Andrea and night became day. 

Design Consultant

During these stressful immigration times, everyone needs a champion in their corner.  Andrea Szew was our champion and we unequivocally recommend her to be yours. With the one-two punch of brilliance and charm she guided us through multiple legal rounds, often in Spanish, ultimately winning my Brazilian partner his U.S. green card. The bonus round was she became our great friend.  Exuberant praise and abundant love to Andrea and her team!

International Chef at C.C.O. Cinesite Studios

Andrea and her team make the complex visa lodging process as simplistic and painless as possible. Their attention to detail and thorough knowledge of what is required makes all the difference. They provide innovative solutions. They have an enviable strike rate for success. Andrea remains a calm and steady force and provides a solid guiding hand during the entire process. It is said that love is in the details and I can assure you this is the case with Szew Law. Which is why I've sent at least ten new clients her way and will continue to do so.

CEO & Co-Founder, Jaxsta

Andrea and her team are extremely professional organised helpful and knowledgeable on all matters relating to immigration. Working through the very complicated and difficult process of applying for visas with her team is easy and you always feel supported and confident throughout all the steps. I highly recommend Andrea and refer everyone to her !

Director Member Relations APRA AMCOS

I recommend Andrea to my contacts frequently. She provides excellent advise and attentive, professional service.

CEO and Founder Future Classic

I have nothing but praise for Andrea. She is a true professional and guided me and family step by step through the process of obtaining our visas. I highly recommend her and have already done so to others. She is very thorough and detailed in her work. Not only is she great as an attorney but also a kind and great person.

Owner/President Sun Grape Group

Andrea has been a delight to work with, always a phone call or email away. She helped me with two of my US Visas and the entire process has been smooth each time. I highly recommend Andrea to anyone in my network looking for a highly competent and super friendly immigration attorney.

Co-Founder & CEO at Whispli

I would like to recommend Andrea, we successfully went through the process of a US E2 investor visa, it is not a easy process but Andrea and her team were just wonderful and professional. They answer your e-mails very fast, they help you in any kind of situation, even at the immigration office Andrea came over to help me there which was wonderful ! After the E2 visa, I got married in USA and Andrea successfully took care of the marriage visa process and now I have my green card. If you have any immigration request, SZEW LAW GROUP is the place to go !!!! Thank you again Andrea for everything !!

Business owner at HV CONNECT LLC, EHV Cable splicer

For many years, Andrea and the Szew Law Group have helped both my family and my company to navigate the complexities of immigration laws. She is great! I would recommend highly to anyone looking for a wise guide and advocate thorough this process.

It's always nice to have a good experience with a lawyer, and often quite rare. This exceeds everything. It has been pure joy working with Andrea and Anne-Marie over 2 visas now. Efficient, informative, thorough, speedy, and lovely to deal with. They go above and beyond for you, and they cross every i dot every t while being lovely and human to boot. I wouldn't go anywhere else ever.

Highly recommend Szew Law! Not only was I able to get clear and concise advice and answers, they were very prompt in their response times too. In my 6 years of living in the US across a number of visa's, I have dealt with many immigration lawyers, Szew Law have been the best for me. I also thought their rates were reasonable.

I have worked with Andrea for years on a project. She is a great immigration specialist and lawyer.

Andrea is the best in her area, she work with us few year ago, and to be honest I wouldn't have chosen any other person to guide us through the whole process. Usually I get very overwhelmed but she made everything so easy for us, going to her office was a delight, besides being an amazing lawyer she is a wonderful person who cares about her clients, always felt very welcomed when we had to go to her office.

WOW! Szew Law Group is INCREDIBLE! I have worked with Andrea and her company for several years now. She worked on several US visas for myself and company. She is so thorough in her work, incredible to deal with and extremely efficient. I have recommended her to several of my colleagues and they too have always had similar stellar results. She continues to stay in touch and follow the journeys of those she works with. I would recommend her and her company in a heart beat to anyone looking to get a visa - her track record is incredible and I would always go to her first above anyone else.

I can highly recommend their services, my go to lawyer for artist visa!

Amazing to work with. Super awesome communication and everything was done with success in mind.

Andrea Szew is the perfect person to represent anyone from the creative field looking to work in the US. Besides being completely professional and inspiringly up to date on the latest fast moving changes in immigration - she is a kind and caring human who makes the sometimes daunting tasks one must go through so much easier because of her personal care towards her clients and her profession.

Very easy to work with and efficient help with getting a visa for my wife and I. Would recommend

Andrea and the team delivered as promised and prepared our complex E2 visa application in an expedited timeframe. The entire team is responsive, professional and honest. Often in situations such as these you are promised the world and then disappointed. Andrea was realistic from the start and the agreed cost to prepare our applications was reasonable and did not increase despite challenges we faced as a result of COVID. I highly recommend Andrea and the team and I will be forever grateful for their expertise and kindness in assisting our family during a stressful time.

Andrea Szew and her team were key in us successfully getting visas to work in the United States. Obtaining visas is more complicated than one anticipates, but Szew Law Group's knowledge and experience made it a clear and smooth process. I highly recommend their services. Philippe Palacios

Andrea and her team did a superb job in securing my US green card, navigating me through the host of uncertainties that can come when presenting one's case in a one-off fashion from one's own particular context. I learnt that there is often a better and/or easier way to present things. Andrea was also there to discuss or support at the various points when i wasn't sure when anything was next going to happen, or what to do when it would happen - alongside this, the process was made more difficult by COVID. The help from the Szew Law Group was highly professional, timely, accurate and they were always on top of things. my green card arrived last month and it signifies another stage in my life that i can now fully focus on. Thanks Andrea and team.

I would highly recommend Andrea for any of your visa needs. She and her team took what seemed to be an overwhelming process and made it feel manageable and achievable. They are quick to respond, and always willing to answer any questions along the way- big or small. And all at a very reasonable rate too. Go no further than Andrea!