URGENT H1B DEADLINES APPROACHING!
If you are applying for one of a few coveted H1B visas this year you MUST read this! Considering there are only 65,000 H1b visas available every year (with an extra 20,000 for graduates of US masters or higher programs) it is imperative that you prepare NOW to have the best chance of grabbing one of them. As in past years, there is a registration requirement prior to the annual lottery. If you miss the registration, you can say goodbye to getting a chance at an H1b visa. Below are need-to-know dates and what steps to take if you or your employee are not selected.
First the employer must register all prospective employees with USCIS. Once registration closes USCIS will conduct a lottery prior to April 1st of all the registrants and choose which ones will be reviewed to determine qualification for an H1b. Those registrants that are not selected, will have to determine other options, or wait to see if there might be a second lottery a few months later to pick further possible candidates.
Although USCIS has not yet announced the official dates and timeline for the H1B registration period for FY2023, below were the dates used for FY2022 which will likely be similar this year. Check back to our website and social media for updates on confirmed deadlines for this fiscal year.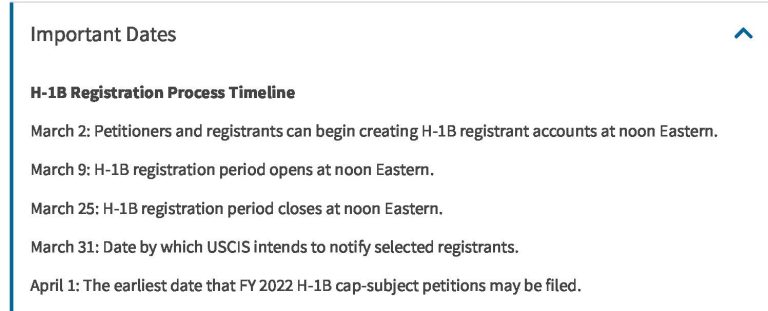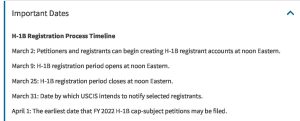 So "What happens if me or my employee are NOT selected?" Well luckily, you still have other options available. The American Immigration Lawyers Association (AILA) has put together an informative flyer for both employers and employees summarizing other possible nonimmigrant visa options. CLICK ON EACH OF THE FLYERS BELOW TO VIEW.
We hope that all of you are chosen in the lottery, but it is always good to have a "backup plan" in place just in case. Please contact our office immediately so we can assist you with registering and ultimately filing for an H1b visa. This only happens once a year, therefore, it is critical that you don't miss any deadlines and submit all required forms and documentation correctly if chosen. If you are not chosen we will work closely to try to find an alternative that will work best for your situation.