MY U.S. VISA WAS REFUSED, NOW WHAT?
Did you apply for a nonimmigrant visa and were told by the officer that you were REFUSED? Or you found out afterward, when you checked your status online, that you were REFUSED? Are you freaking out not knowing what to do next and have no idea what "REFUSED" means?
This will help walk you through exactly how to check your visa status online and will explain what it means to be "Refused". Let's get started!
First, depending on which US consulate, you went to for your interview, you may have been told by an officer that you were refused pending administrative processing or they require additional information. If this is the case, they should have provided you a letter or sent you an email, depending the consulate, explaining what you are required to do next. Pictured below are a few samples of what these might look like.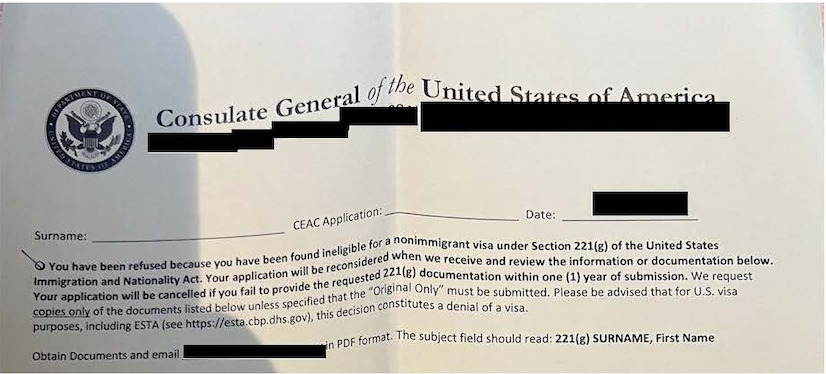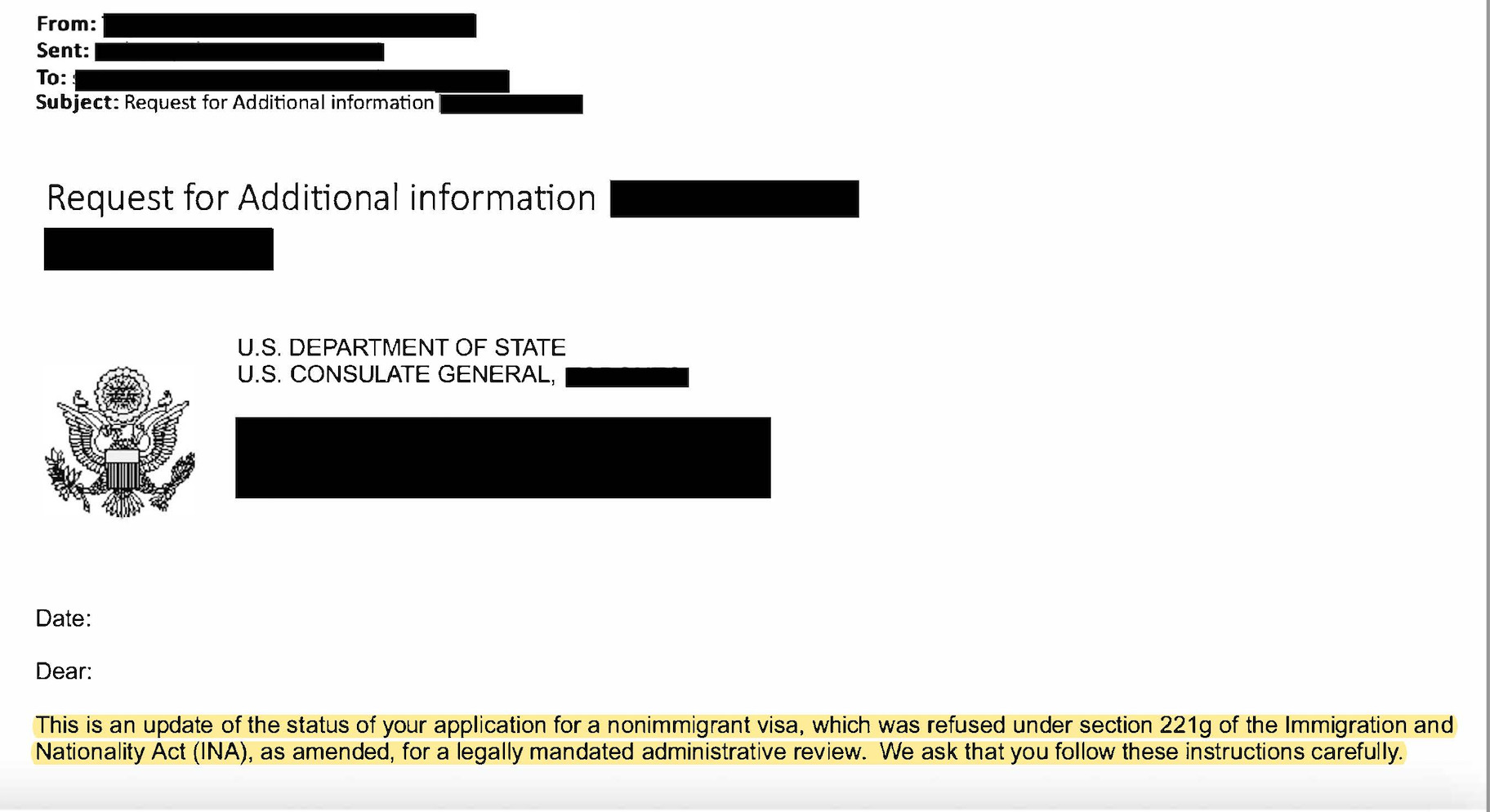 If you did not receive a letter or email after your visa interview, stating you're "refused", then you'll want to follow these next steps to check your application's case status online.
Go to STATE.GOV and click on "Check My Visa Application Status"
You will then need to select your "Visa Application Type" in the scroll down menu. Select "Nonimmigrant Visa (NIV)"
After, you will need to select a location from the dropdown menu. The location is where your visa application is currently pending, likely where you had your interview as well.
Your nonimmigrant Application ID or Case number will be located on either your DS-160 confirmation page or your DS-160 ID. 
After you input your information and entered the code shown on the screen, click "Submit". A page will pop up where you will see what your current status is.
After your interview, if you were REFUSED, your status will likely look like this: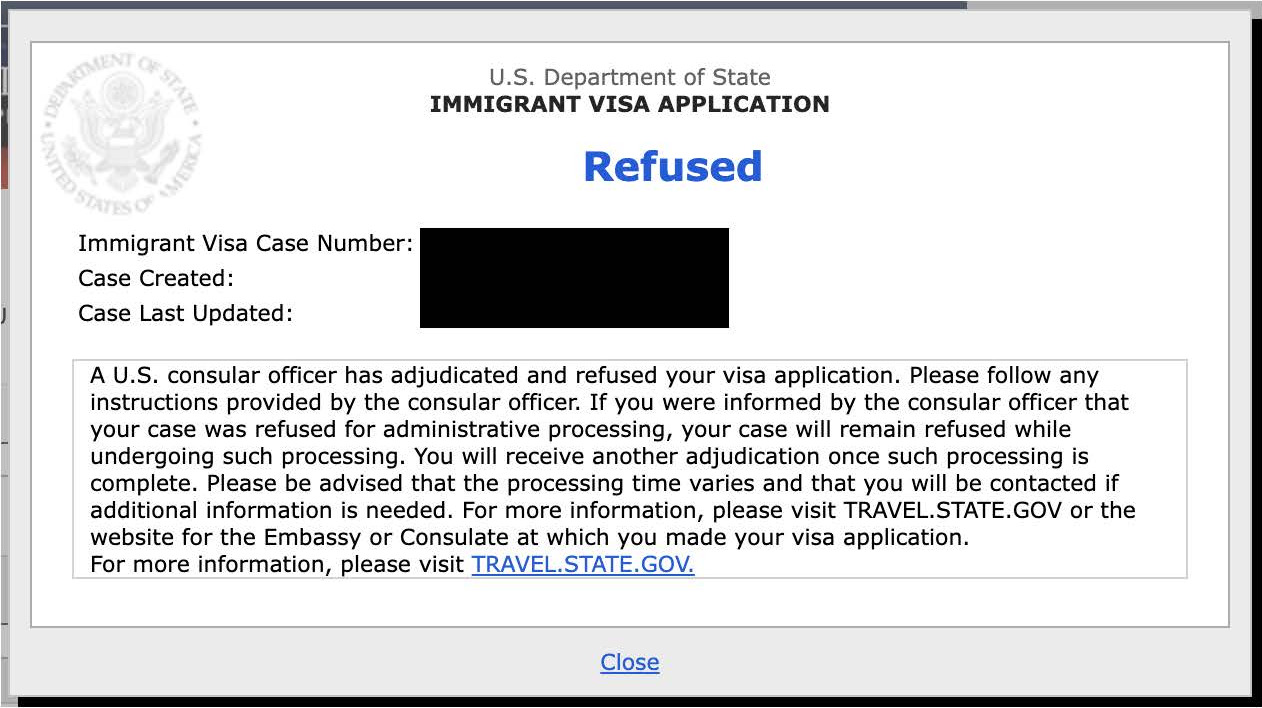 If your case status is "Refused", DO NOT worry! Take a deep breath. Just because your status says "Refused" DOES NOT mean that your case has been DENIED. Usually the fact that a nonimmigrant case was refused is because the consulate is either 1) doing further research on your case, 2) has requested (or will request from you) further information to make a final determination or 3) has found a need to do further background security checks. If the consulate requires additional documentation from you, they will usually request it at the interview and issue you a letter as shown above, or send an email with instructions on what they need and how to send it back to them. The consulate will usually keep your status as "Refused" until they receive what they need or finish the further processing that they determine is necessary.
The consulate's procedure of putting your case in "refused" status can be very confusing. I don't agree at all with this process because it creates unnecessary stress on the applicants while awaiting some type of correspondence on their case that is "pending" and not really "refused".  Refused is a powerful word to use for "pending"!
IMPORTANT TIP!
To avoid any confusion as to the outcome of your interview I HIGHLY recommend you do the following BEFORE you leave your interview:
Take down the name of the officer who interviewed you;
Do not leave the consulate without a very clear understanding of next steps;
Ask the officer directly, at the end of the interview, if you were approved and what is the timing to obtain your visa;
Don't be shy but always be respectful if you do not understand something and you are not sure of the status of your case. ASK ASK ASK UNTIL YOU UNDERSTAND.
If you were not approved on the spot, find out exactly what the officer needs from you in order to get your application back in the queue and processed quickly. Do not be afraid to ask questions! The officer may not have all the answers at that moment, but the more information you can get from them, the better, so you know exactly what to expect.
Remember, even if you were told you were refused at the interview or your case status online shows refused, that doesn't mean your application was automatically denied. Likely there is further documentation that is needed to complete their review and their administrative review process just takes longer than normal because they have to make sure everything is in order. If an application was denied, the officer will have to provide clear, written reason for which the application was denied.
For more information on visa categories and filing your application with a US Consulate, please feel free to contact our office at 310-477-0047 or email us at info@szewlaw.com to set up your consultation today! Make sure to also watch youtube video REFUSED A VISA NOW WHAT?
Make sure to also check out our other blogs HERE and don't forget to SUBSCRIBE to our YouTube channel where we post videos that you can't miss!